Do Not Enter: The Visa War Against Ideas
Are there limits to free speech?


"A bold, indignant documentary."
—Newsday
"An excellent resource for classes."
—Journal of American History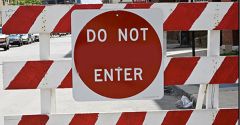 The filmmakers traveled to twelve countries to interview people invited to speak or participate in U.S. cultural activities, to learn why they had been denied U.S. visas and what they might have told Americans if allowed to enter the U.S.

"This outstanding video should be seen by every educator who believes in academic freedom. Also suitable for college students, it could easily be used as the basis for discussing what, if any, limits should be imposed on free speech.
Those who would dismiss U.S. restrictions by suggesting that foreigners need not be granted First Amendment rights, might well examine the flip side, that is, the possible infringement of U.S. citizens' rights to hear opposing opinions. Four Gold Stars."
—Teaching Equity Journal



"Do Not Enter" is a thought-provoking and entertaining investigation of the far-reaching historic effects of the 1952 McCarran Walter Act, largely repealed in 1991—repealed with the help of this documentary. The Act had been used to bar 250,000 foreigners from entering the U.S. on political grounds.

The USA Patriot Act has revived much of the McCarthy era law whose impact on free speech and foreign policy is the focus of "Do Not Enter."

Exclusive interviews with prominent cultural and political figures amplify the legacy of this Cold War law and its blockade of democracy's free flow of ideas.


"Responsible... persuasive... Watch it."
—New York Times
"Effectively challenges the portrayal of the U.S. as a 'marketplace of ideas'...skilfully draws out contradictions."
—Journal of Contemporary Sociology
Interweaving historic footage to provide context, "Do Not Enter" includes:
The excluded:
Gabriel Garcia Marquez, Nobel Laureate
Carlos Fuentes, author, Mexico
Nino Pasti, ex-NATO General, Italy
Danny Morrison, Sinn Fein leader, Northern Ireland
Hortensia Allende, widow of slain Chilean president
Tomas Borge, ex-Interior Minister, Nicaragua
Ernest Mandel, economist, Belgium
Maritza Ruiz, Co-madres, political leader Roberto d'Aubuisson, El Salvador
Venerable Sato, peace activist, Japan
Oscar Niemeyer, architect, Brazil
Dario Fo (Nobel Laureate) and Franca Rama, playwrights/actors, Italy
Jan Myrdal, Sweden
The Excluders:
Joan Clark, Assistant Secretary for Consular Affairs, State Department; James Hergen, Legal Counsel for Consular Affairs, State Department; Commissioner Alan Nelson, Immigration and Naturalization Service; Mario Noto, ex-Deputy Commissioner, Immigration and Naturalization Service; William F. Buckley, Jr., author, TV host; Roy Cohn, attorney.
The Critics:
Authors Arthur Miller, John Irving, Susan Sontag and Rose Styron; Rep. Barney Frank; Charles Gordon, ex-Chief Counsel, Immigration and Naturalization Service; Mort Halperin and Burt Neuborne, ACLU; Jeri Laber, Helsinki Watch.
"Fascinating... A model of balanced investigative journalism." -In These Times
First Prize, International Association of Journalists

Silver Hugo, Chicago International Film Festival

Red Ribbon, American Film Festival

Written and directed by Robert Richter. Co-produced with Catherine Warnow
57 minutes
Study Areas: Social and Poltical history, American studies, civil liberties, human rights, immigration law and policy, international relations, political science, cultural anthropology, Cold War, Patriot Act, Latin American studies, broadcast journalism