For Export Only: Pesticides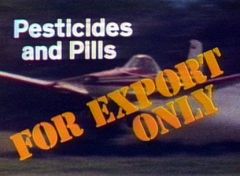 For Export Only: Pharmaceuticals, also by Robert Richter, was originally telecast at the same time as For Export Only: Pesticides.
"If you ever wanted to know how human beings behave in the absence of rules, in an open unregulated market, these films provide the answer."
—Washington Post


Why is a product banned "here" OK to export "there"?
Can double standards ever be ethical in the global market?
"startling public-service TV." Christian Science Monitor

"Elucidating, shocking...depicts the shocking truth...5 out of 5 stars..."
—DANDT, U.S.A., April 8, 2011
"Geneva: Experts and officials from some 150 countries started talks on Monday on banning production of nine chemicals considered potentially dangerous but still used in farming and for other commercial purposes."
—Reuters, May 4, 2009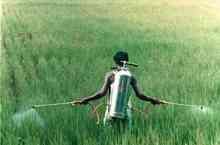 Distinguished Science Reporting Award - American Association for the Advancement of Science
DuPont Columbia Broadcast Journalism Award (TV's Pulitzer Prize)
For students and other viewers facing a world of globalization, free markets and deregulation, "For Export Only" documents shocking information about products exported to developing countries that are prohibited or severely restricted in the countries where they are made.

The products are banned or restricted because they cause cancer, liver disease, central nervous system diseases, sterility and death.

Specific products and manufacturers are named as the two documentaries clearly depict their use and abuse in Mexico, Costa Rica, Colombia, Brazil, Kenya, Ghana, Bangladesh and Malaysia. The brand names may be changed, but the practices documented in these powerful reports have not.

Students could be assigned to research and report about:
What changes have occurred since the documentary's original release?

What new products have come on the market with similar problems?

What has happened with efforts to deal with this issue?
"An extraordinary report."
—London Observer
"After nearly three decades of legal struggle a Los Angeles jury awarded $3.2 million to Nicaraguan farm workers who argued they were made sterile by exposure to a specific pesticide. Dole Food Company was accused of exposing the workers to pesticides made by Dow Chemical Company that caused permanent sterility."
—Los Angeles Times, Nov 6, 2007
"More of a piece of investigative journalism than any other program honored. And what made it special was that it was produced not by a major station or network, but by Robert Richter, an independent producer. He beat the networks, with all their money, at their own game."
—New York Times report on duPont Columbia award
Documents the "circle of poison" of banned and restricted pesticides used on products we import, such as coffee, bananas and cotton. A fishing village in Ghana shines through as an example of both problem and solution.

The first national PBS telecast created an international sensation. United Nations delegates who saw the program demanded an end to the practices documented; this led to an international monitoring system. It is a rare example of a documentary that truly made a difference.
"A global horror story with ugly implications...Watch this...You may never want to eat again!"
—Indianapolis Times
American Film Festival Red Ribbon
Audubon International Environmental Film Festival
International Consumer Film Competition
57 minutes
Study Areas: agriculture, broadcast journalism, business and economics, business and society, business ethics, chemistry and society, conservation of natural resources, contemporary moral problems, consumer issues, developing world studies, economic geography, economics of natural resources, environmental chemistry, environmental ethics, environmental health, environmental sociology, international agriculture, international business/trade/marketing, natural resource management, plants and civilization, political sociology, public health, sociobiology, Third World studies, legal and ethical health care