The Money Lenders
Critical investigation of The World Bank and IMF
Written, directed and produced by Robert Richter


Oct. 12, 2012: IMF managing director Christine Lagarde urged that countries not sacrifice growth for the sake of austerity.

Do the World Bank and IMF make the poor even poorer?
Are the Bank and IMF democratic institutions?
Why do people demonstrate against the Bank and IMF?
For the first time, a documentary global investigation of major criticisms of the World Bank and the International Monetary Fund (IMF), two of the most powerful financial institutions in the world. Five country case studies are presented, each concentrating on a different aspect of critics' charges:
Bolivia: Debt, Drugs and Democracy
Ghana: The Model of Success
Brazil: Debt, Damage and Politics
Thailand: Dams and Dislocation
Philippines: The Debt Fighters
The charges, including those related to structural adjustment, are controversial and provocative. Some go to the heart of the power and policies of these institutions. They are made by economists, journalists, sociologists; church, labor, environmental, government and community leaders; and ordinary people from these countries who are perceived by critics to be victims of IMF and World Bank policies and projects.

Responses to criticisms are presented by the World Bank Senior Vice President, the IMF Deputy Managing Director and top current and past government officials from each country. Bank/Fund history and decision-making processes are also included in this valuable teaching tool.


"Clear and comprehensive... admired the way in which you were able to bring an in-depth exploration of these complex issues to life."
—UN Development Program
"Well balanced...Excellent...Superior."
—U.S.A. Gabriel Awards
"Thought provoking."
—Bank Check Quarterly




Too hot for PBS, which would not telecast The Money Lenders because "it has a perception of bias in favor of the poor." Despite this allegation, Video Librarian magazine recommends it as an "interesting look at both sides of the issue..." It was a primetime telecast in the 1990s throughout Europe, updated in 2000 for educational institutions and is currently used in hundreds of college classrooms.

Teachers could assign students to look into what has and has not changed since the documentary was last updated.


"Most everyone agrees that the system for governing the world economy that emerged from a hotel room in Bretton Woods, N.H. - in the era of the gold standard and fixed rate exchanges - is hopelessly outdated."
—New York Times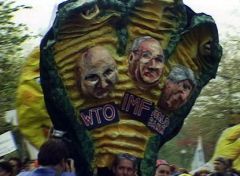 Since November 1999, over 50 protests about World Bank/IMF policies have taken place in more than 15 countries, with over one million protesters.

Emmy Finalist
Prix Leonardo, Parma International Film Festival
85 minutes

Study Areas: agricultural economics, banking, business and society, contemporary moral problems, development, economic geography, economy of natural resources, environment, finance, financial institutions and markets, globalization, international business, international finance, international law, international organizations, international trade and finance, money and banking, political sociology, public finance in economics, Third World studies