Incident at Browns Ferry
In the wake of Fukushima
how safe is "safe" nuclear power?
Written, directed and produced by Robert Richter


"All the elements of an apocalyptic thriller...one of the most important public services on television this year, and it is terrifying."
—Boston Globe
"Particularly provocative, lucid, eye-opening..."
—Christian Science Monitor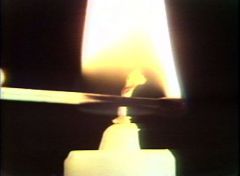 The incident started with a candle flame used to check for nuclear leaks, causing an accidental fire that went out of control.

Japan's nuclear power crises, Chernobyl and Three Mile Island shocked the world about nuclear power's dangers. If you had seen "Incident at Browns Ferry" you would not have been surprised. The Browns Ferry documentary won a duPont Columbia Broadcast Journalism award (TV"s Pulitzer Prize) despite the nuclear power industry's effort to stop its national telecast in the PBS Nova series.




"If nuclear power is to have a future...Americans have to have confidence that regulators and the industry are learning the lessons of Fukushima and taking all steps necessary to ensure safety...our nation's oversight of nuclear power plants is a less than rigorous 'patchwork'...The industry should have learned...that public confidence is fragile..."
—New York Times July 24, 2011; complete editorial at nytimes.com/2011/07/24/opinion/sunday/24sun1.html


The Browns Ferry fire led to a near meltdown in what was then the world's largest nuclear power plant. After the fire was extinguished in this huge technically sophisticated facility, potentially dangerous air leaks were checked with a chicken feather.



As Pres. Obama calls for new safe and clean nuclear power plants and the U.S. licenses new nuclear plants for the first time in 30 years, the questions at the core of Incident at Browns Ferry remain:

How safe is nuclear power? How safe is safe?

May 2007: Browns Ferry reopened after 22 years. A week later it shut again.
57 minutes
Study Areas: Environmental studies, nuclear power, energy, safety, statistical analysis.