The Last Atomic Bomb
"It's impossible to remain detached...Deeply affecting..."
—New York Times

Directed by Robert Richter. Produced by Robert Richter and Kathleen Sullivan.

Click here to view short excerpt
Click here to view trailer on YouTube
While American and Russian nuclear stockpiles are now decreasing, nuclear proliferation is a growing and urgent problem. Memory is fading of the consequences of using nuclear weapons and why proliferation is so risky. No one knows this more than the survivors of Hiroshima and Nagasaki.
Challenging assumptions, nuclear proliferation of today is seen through the devastating yet inspirational life of Nagasaki survivor Sakue Shimohira — joined by college students — dedicated to making sure the truth about the last atomic bomb deliberately used on human beings will never be forgotten.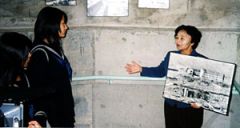 Sakue Shimohira tells students everywhere how she survived the last atomic bomb
"***(3 stars) A worthwhile effort to understand an event that should never be repeated. Recommended."
—Video Librarian

"****(4 stars) Impossible not to be moved"
—Time Out Magazine
"Shedding light on the dark corners of history... fascinating...alarming...the simple, earnest truth."
—The Villager

There are other documentaries about the atomic bomb, but none include what is in this one, for the first time:



It challenges the widely held U.S. assumption that dropping the bomb on Nagasaki was essential to end World War II. The provocative arguments about that decision have never been part of a U.S. documentary.

It presents information about an almost unknown part of post World War II history: the Press Code imposed by the U.S. occupation government on Japan's media. Prohibiting media reports on the bomb or its health effects, the Code had a significant effect on how survivors were mistreated in their own country and how their health problems were misunderstood.
It presents information about the Atomic Bomb Casualty Commission, a U.S. agency that gathered data from thousands of survivors, sent that data to the U.S.—not Japan—and did not attempt to ameliorate the health problems of the survivors.

It also is innovative in crossing generations, by showing a 70-year old bomb survivor accompanied by college students who have taken up her cause.

In one of the film's most powerful moments, Sakue describes her sister's suicide ten years after the war ended as "the courage to die." Ms. Shimohira, the survivor, found "the courage to live" and dedicated her life to abolishing nuclear weapons.
"Indelible images...effectively explains the domestic and economic calculations that factored heavily in the decision to drop the bomb."
—Prof. William Hartung, New School University, author "And Weapons for All"
"Powerful"
—TV Guide Movie Reviews
"Must see...important"
—The Campus, CCNY
"Of great documentary significance and moral beauty — an essential gift to every generation of our nuclear age.""
—Joanna Macy, author, activist
"Bracing, potent explorations of hot-button issues"
—All Movie Reviews
Koichi Wada was a 17-yr old streetcar conductor when the bomb dropped. He survived; his friend did not.
In Paris Mrs. Shimohira shares memories in a moving encounter with an Auschwitz survivor. She stirs high school students in London and New York City with her presence and description of the bomb and its effects.

At the film's life affirming conclusion, it is clear that student Haruka has become motivated to carry on Mrs. Shimohira's nuclear abolition message to young people around the world.
"An affecting portrait of the human costs of war."
—Frida Berrigan, Arms Trade Resource Center
"Deeply impressed...beautifully made...even more germane than usual...thought-provoking and inspiring."
—Don Kelley, Voices of the Heartland
"A lesson in humanity."
—Felicity Hill, Australia Medical Assoc. for the Prevention of War
"The definitive story"
— Planet in Focus
"***(3 stars) Powerful"
—AM New York
Producer Kathleen Sullivan is a disarmament educator, NGO representative at the United Nations, author, consultant and lecturer on nuclear issues. This is her first film.
"Informative, compelling"
—Asia Reporter
"Persuasive"
—New York Sun
"Harrowing"
—Orlando Weekly
"Haunting"
—Asia Documentary Reviews
"Passionate"
—Film and History Journal
"Quite touching"
—New York Magazine
"Urgent"
—The Oregonian
"Powerful"
—Register Guard, Eugene
Screenings: First showing was in Nagasaki at their 60th year commemoration events. Subsequently screened at the United Nations in New York and Geneva, international conferences on nuclear disarmament, and in theaters, universities and festivals in the U.S., Canada, Europe, Asia, Australia, Latin America and South Africa.

Awards: Best Documentary, San Diego Asian Film Festival; Audience Award for Best Documentary, Sao Paolo International Film Festival; Press Award, Goais (Brazil) International Film Festival; CINE Golden Eagle

Festival screenings: Planet in Focus (Toronto), Global Peace (Orlando), New York Peace (opening night film), other festivals in Turkey, Italy, UK, Japan, Germany, Brazil, India, California.
92 minutes. English subtitles. DVD with chapters, or VHS.
Japanese subtitle version also available.
Study Areas: Human rights, Social and Political history, American history, Asian Studies, Japanese history, World War Two, women's studies, peace studies, environmental studies, political economy, youth activism, biography, death and dying, weapons of mass destruction, nuclear proliferation, nuclear war, nuclear technology, nuclear terror, Hiroshima, Nagasaki.