In Our Hands
Directed and produced by Robert Richter and Stan Warnow, with 43 volunteer camera teams and 12 volunteer editors
Documents June 12, 1982, a magic day in New York:
the largest peace demonstration in history.

Trailer
"An outright joy to behold...encompasses the excitement of the event, its intense sense of human fellowship...the passions and humor of the anonymous as well as the celebrated...ebullient...
entertaining, poignant and joyfully provocative."
—The San Francisco Chronicle
"Exhilarating, funny, poignant and occasionally frightening."
—The Village Voice
"One of the important films of our time."
—The Hollywood Reporter
"Will raise your spirits, if not renew your faith and optimism."
—Pacific Sun
"Excellent...first class...The surprising thing about this documentary is its lack of dogma...wonderful vignettes...humorous interviews."
—San Francisco Examiner
An uplifting documentary, it interweaves performers, individual marchers and down-to-earth scenes of the massive gathering when one million people with one voice called for an end to the nuclear arms race.
Capturing the magical spirit of that day with music, fun, tears, and a dazzling look at a cross-section of concerned humanity, "In Our Hands" is filled with high energy and warm feelings. Even the police were on the side of the demonstrators.
James Taylor
The film features well-known performers and activists.
The performers include: James Taylor, Carly Simon, Holly Near, Pete Seeger, Rita Marley, Peter, Paul and Mary, John Hall, Lucy Simon, Fred Moore, Judy Gorman Jacobs, Are & Be Ensemble, and House of the Lord Choir.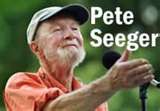 Peter, Paul & Mary
Actors and Actresses: Meryl Streep, Roy Scheider, Orson Welles, Ellen Burstyn, Kathryn Walker, Bob Balaban, Jerry Stiller, Anne Meara and John Shea.
Also: Dr. Helen Caldicott, peace activist and author; Dr. Benjamin Spock, famed baby doctor and author; Rev. William Sloane Coffin, eminent anti-war minister; Randy Forsburg, nuclear freeze campaign founder; Winona LaDuke, Native American leader; Rep. Edward Markey (D-MA); Maj Britt Theorin, Swedish Parliamentarian; church leader Rev. Roy Nichols; labor leaders Jack Sheinkman and Cleveland Robinson...
Atomic Bomb survivors from Hiroshima and Nagasaki...


And Ordinary People from all over the U.S. and around the world who marched and spoke out, demanding an end to the nuclear arms race.

Over 30 years later, with reports of plans for new nuclear weapons, "In Our Hands" reminds us of how people responded then, a role model for those who today dare to raise questions.


Holly Near
"A remarkable record...a model documentary...a pleasure to watch."
—Oakland Tribune

90 minutes
Study Areas: Social and political history, American culture, human rights, peace studies, sociology, cultural anthropology
5.0 out of 5 stars An Inspired Event and Documentary, July 13, 2012 By Florindo Troncelliti (New York, NY)
"The film is a work of genius. It starts slowly, but builds steadily to a crescendo. It is the most INSPIRING, choke-you-up MOVING film about a real event and a lot of real, ordinary people that I've ever seen! Richter says he just tried to show the Peace Movement and the Freeze Campaign for what it is. Looking back on it from 2012, what's portrayed in this film stands out like a mountain-sized diamond in an otherwise bleak landscape. For those of you who remember these times--the zeitgeist--it will bring you right back to the warm sense of energy, excitement and love that permeated our culture (or at least, a large part of it). If you're too young to remember those days, you will see something that's been lost -- a faith -- a connectedness -- that we must all strive now to recreate together, before it's too late." http://www.amazon.com/In-Our-Hands-Home-Use/product-reviews/B001RZ2EVU/ref=dp_top_cm_cr_acr_txt_cm_cr_acr_txt?ie=UTF8&showViewpoints=1